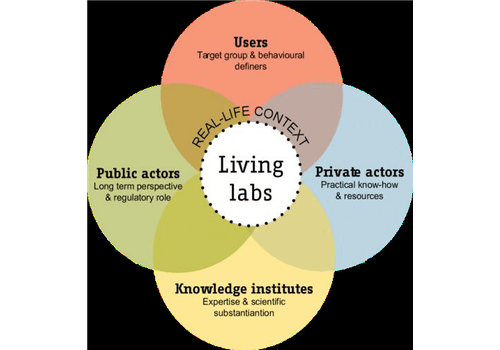 Living Lab is setup with support from MEITY (Government of India), Smart City Mission and Government of Telangana at IIITH. The European Business and Technology Centre (EBTC), the technical cooperation partner along with its associate Amsterdam Innovation Arena brings proven and successful models and frameworks for the living lab concept. Hence Living labs combine users, private actors, knowledge institutes and public actors in real-life context .The success of the living lab concept is based on its collaborative framework and management of an ecosystem with multiple stakeholderswhich include Governments, academia, innovator, industry, incubator and facilitators of the collaborations.
The Building on the Living Lab @ IIITH Smart City Research Center is based on the following Objectives:
Connect with academia worldwide that also work on living labs and exchange experiences.
Living lab to be a platform for research/students to work on relevant industry driven projects and a Opportunity to connect students directly to the ecosystem in this thrilling environment.
Creation of a viable innovation and demand driven ecosystem in universities.
Helping startups in creation of proof of concept, scaling up and commercialisation local & global.
Enhance the effective linkage of urban challenges as well as government initiatives.
Identify the demand of the lab environment and the urban local bodies.
Establishing a well managed and transparent governance system.
Local/international industries as the driving force for the Living Lab.
Establishing a circular economy model by bringing together relevant stakeholders across sectors and disciplines from both India and Europe.
Consolidation of both grass-root as well as top-down mechanisms for innovation and entrepreneurship working towards a viable circular economy model that is measurable.
The three major pillars of the Living Lab are:
Smart campus: Infrastructure-70 acres with 2 million sq ft space. Live campus, with 4000+ occupants, research labs and 250 startups. Sensor, controls and data infra in place for innovators to use/test.
Research: 22+ research centers. 6 directly related to Smart Cities. To take up research projects immediately relevant to smart city use cases.
Innovation: Incubator for startups working on Smart City solutions. Tech companies with solutions that can be validated in the Living Lab.