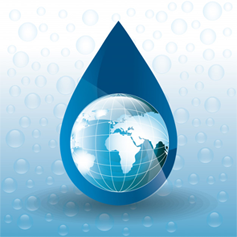 IIITH's Living Lab is collaborating with government bodies, start-ups and big organizations on Smart City solutions. The Living Lab is a live setup, all wired with various sensors to extract and store critical parameters of the various IoT verticals related to air quality, building energy, water quantity and quality, street lighting, etc. Through the Living Lab, IIIT-H plans to transform the campus into a platform for learning, experimentation and for showcasing new ideas and approaches to ensure that the right products are defined, designed and built for the smart cities.
In this context this water challenge is being launched in association with Government of Telangana & NIUM together to find solutions to the problems faced regarding water quality, supply and non-revenue water by the cities.
If you believe your ideas can make a difference, participate and contribute in the challenge now for a great cause !!!
4 Finalists to be announced soon!
Topics

Non-revenue Water
(water revenue lost due to unaccounted water, pipe-breakage or lost in tanks or in pilferage, etc.)

Identify the sources of Non-revenue water and create solutions to help the city authorities in not losing their revenues and ensuring Water Network/use monitoring & optimization.

Water Quality and Quantity Monitoring

One in nine people around the world do not have access to clean water close to home and testing the quality of water becomes vital as it directly affects the health of the residents. Security of water in the network and measuring where water is getting used/lost helps to improve the supply quantity. The water quality may deteriorate over time or instantaneously, and most of the times, the change goes undetected. Continuous water quality testing and cleaning determines specific issues and ensures the health and safety of the residents. Build solutions that ensure quality and allow efficient testing of water sources or bodies to help the city governance.

Wastewater industrial/sewerage etc and rain-water

Sixty percent of the world's population lives in areas of water stress, where the water supply and demand do not meet. Rainwater, when used effectively can provide solution to the abovesaid problem to a certain extent. Cleaning and recycling of the wastewater also helps to relieve some of the stress. Schemes to contain and recycle rainwater/wastewater to meet these demands are welcome.

Water drains

Rainwater clogging is one of the major problems which effect major cities during the rainy season. Mapping of pipeline/drain/rain network, Sizing and prediction of when what capacity is needed. Prediction of water down pour and planning the drainage system accordingly in advance will save the people from wrath of heavy rains. Seasonal Solutions to the same is sought after.

Open Innovation

Do you have ideas that don't exactly fit under any of the above-mentioned themes? You can submit those under this category.
Idea Phase
Project Building Phase
Prizes
Shortlisted team will be invited to give a demonstration in the Living Lab at IIITH.
Selected teams will be considered for a pilot project in the state of Telangana.